A social media user had narrated how a pastor had beat up a lady usher Over Tithe And Offering Says, Pastor Beat Usher To Coma.
Read full post below…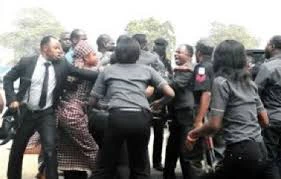 Yesterday, Sunday 15th is a day that I'll never forget in a hurry. Not in my life.
As me, my wife and baby set out for Church to worship in Dynasty Of God Church, Igbogbo in Ikorodu.
As usual, after Sunday school, praises and worship, testimonies, preaching, then offering.
The church had applaud the choir, danced to worship and gave testimonies, in which God's presence was felt.
After then, was the offering and Tithe collection. As this was on-going, the members all danced forward accordingly to give there's.
The church announcement followed and monies were being arranged for record into the church account.
Suddenly, one of the protocol, came and whisper into the Pastor's ear, after that I felt a bad Chemistry in the church dormitory. Before we could look back, a lady, one of the ushers has been engaging two men – the protocol guy and the pastor in a loud and embarrassing argument.
The Lady slapped the Pastor's protocol, which made the pastor slap the lady.
To our great surprise, behold the lady slapped the pastor – and she received the beating of her life, and she couldn't stand up until she was attended to by nurses.
After all, the lady was caught with over 14,520 which the pastor reported has been stolen by the lady.
After all, the church members advise the pastor to report the case to the nearest police station, as they fear that the lady could still retaliate by coming to disrupt church services.
As if the church member had known that the lady was not trustworthy, they explained how the young lady has never allow the church income calculated by anyone except herself.
It was a drama that I can never forget in a hurry.